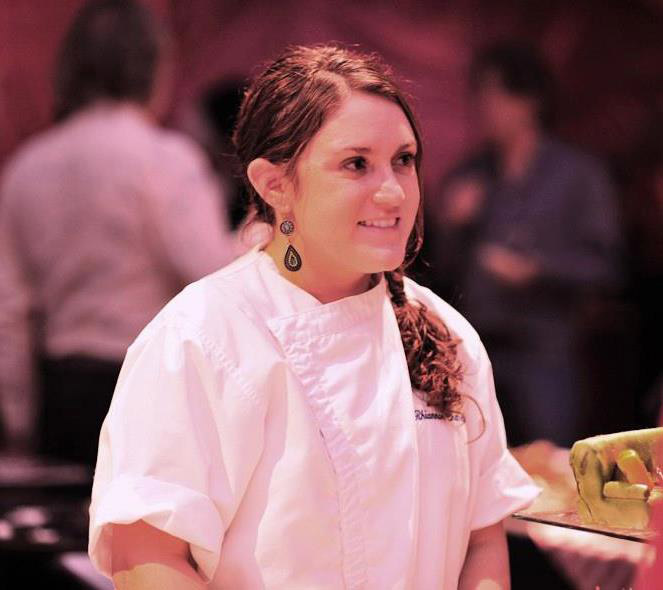 "My passion for cooking and food comes from my family
and my travels. As far back as I can remember food
has influenced my life. From the age of 3,
I was making biscuits with my Grandmother Minne Mae.
With southern influence from Dad's family and Italian
influence from Mom's, food has been a way of life."
Chef/Owner, Rhiannon Chandler
Food brings us together, its a labor of love.
Chef/Owner Rhiannon Chandler, aka "Sweet Rhi," has over 14 years experience in the food service industry. After studying culinary arts at AB Tech in Asheville, North Carolina, she began an extremely successful career as a pastry chef while nurturing her deep passion for food.
Following college, Rhiannon developed her talents with stints at several restaurants around the US, where she had the opportunity to work under world-renowned chefs and study several different facets of the culinary world. Although her largest focus has been in pastry arts and baking, she has also worked as a high-end caterer, a private chef, and even as a culinary teacher at a local arts school.
From her Southern upbringing in the mountains of North Carolina, Rhiannon has lived and worked in Georgia, Arizona, Oregon, and Northern California before being drawn to the beautiful ski resort town of Telluride, Colorado. While working as Pastry Chef for a boutique hotel in Telluride, she began to receive a constant onslaught of personal requests for her cakes and services. This led her to start branching out on her own, and soon Sweet Rhi was born!
Rhiannon is thrilled to bring her business and passion to Charleston, South Carolina, where she can be closer to her beloved family and back to her roots in the South. She is always welcoming new customers, so never hesitate to give her a call if you need to add a little sweetness to your day!
Whether you're looking for an elaborate wedding cake, an intimate catered dinner, or just a simple treat, Sweet Rhi has you covered.